Welcome to Bradley Brown Design Group. A Pittsburgh marketing communications firm.
Our creative team specializes in the art of collaboration. We will be your partner in design, strategy, problem solving, and communication to help you discover your brand voice and build a stronger brand.
We do so much more than just graphic design services. Our philosophy all comes down to nurturing our client relationships. Being there with you through the years as your company grows – that's what we love.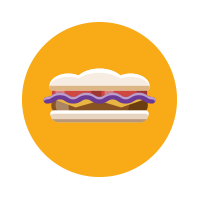 The Sub Shop
Did you know we once branded and designed a deli counter for Giant Eagle? The Sub Shop was a success – any way you slice it – and we loved collaborating with an architect. So throw any challenge our way, we deliver.
True Yinzers
We're proud to be from Pittsburgh, a city where blue-collar work ethic meets innovative thinking. While many of our clients are Pittsburgh-based, we actually have clients around the country.
40 Years
Having recently celebrated our 40th anniversary, we've been around long enough to know the game…and to change it. To think this company started just designing annual reports, and how far we have come.
Our Ghost
Our amazing building in Carnegie was actually constructed back in 1820 by Mansfield Brown. And some of the designers swear that after 7:00pm, the ghost of Mansfield Brown still walks these halls.