ATI Corporate Reports and Website


The Challenge
ATI was looking for a sophisticated Annual Report design that reflected their updated corporate Vision and Values and drew inspiration from their Transformation theme, as well as an interactive, online companion Sustainability Report. As we had previously helped them update the branding on their website and other communications pieces, we were up to the challenge of integrating their new brand elements into the design of cohesive corporate reports.
The Strategy
Annual Report
For the 2020 Annual Report, ATI wanted to focus on their people and their future with the theme of Transformation. We implemented a holistic brand strategy for the design of this report where we used elements such as the brand pattern on the cover, consistent iconography, and a fact sheet on the inside cover. For the infographics, we removed redundancies and used color and structure as informative elements, making the facts and figures more immediate and striking. Our team also advised on the flow of the content, taking a more editorial approach to these pages for a bold look that represented their theme.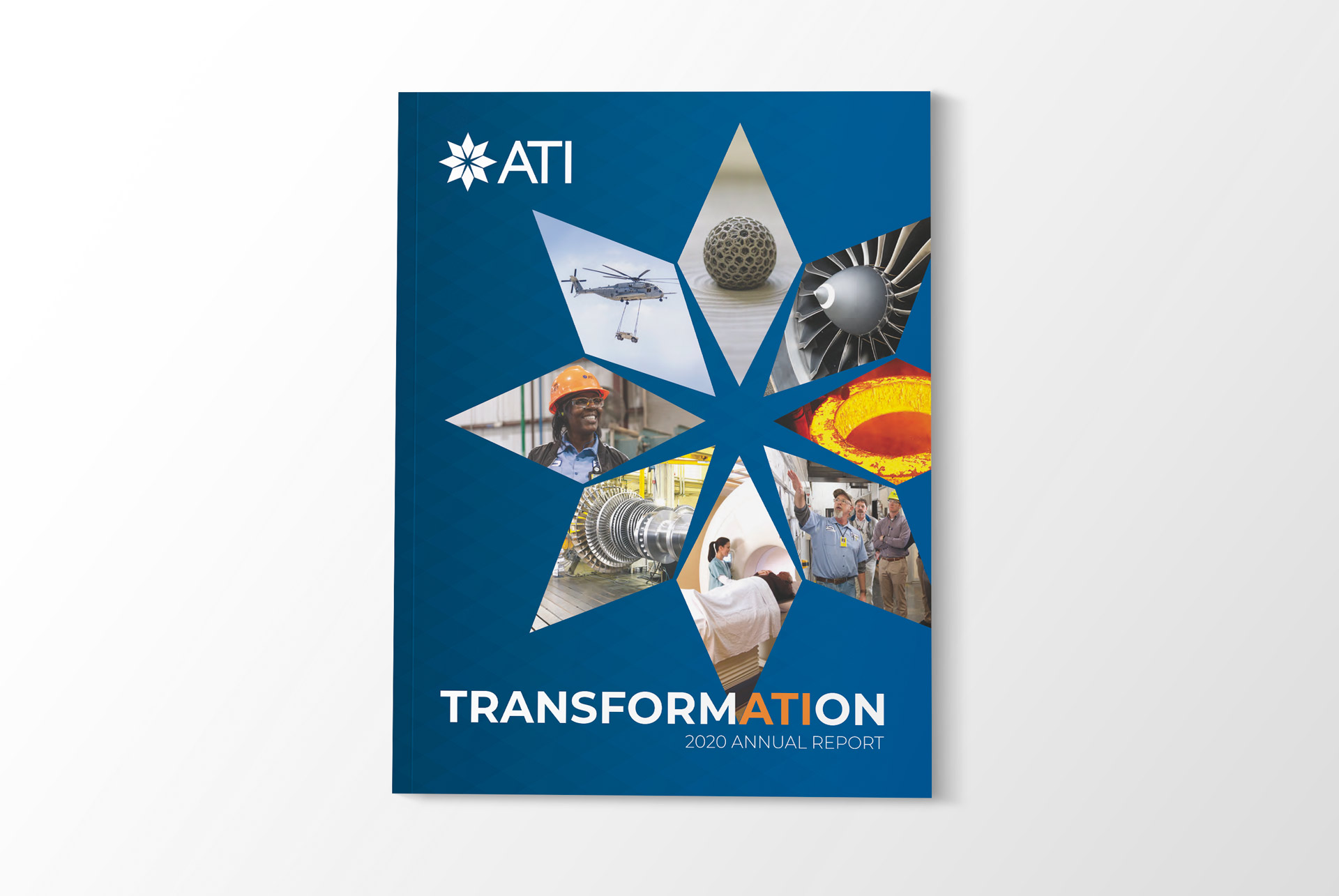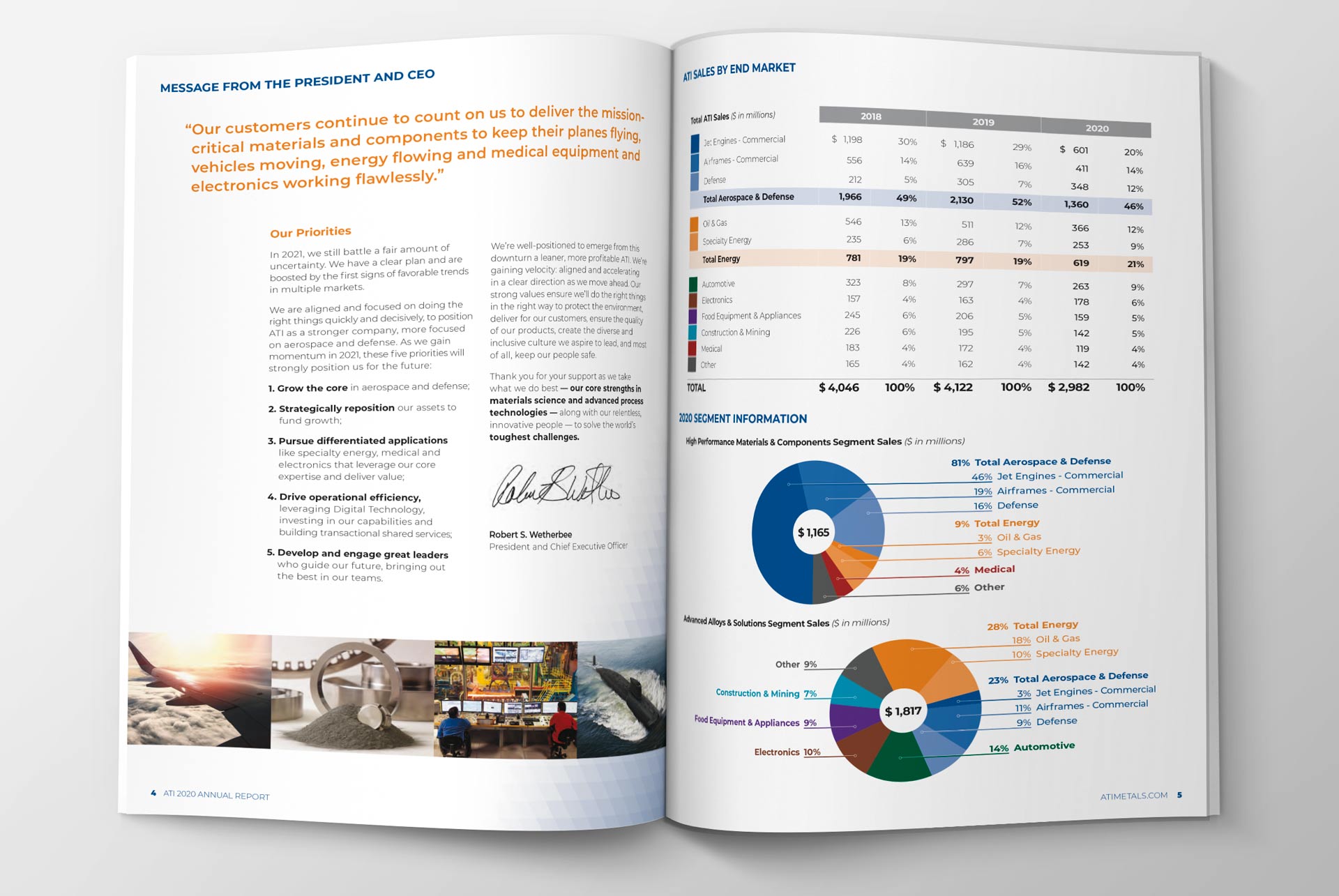 Sustainability Report
Each year, ATI issues a Sustainability Report in addition to their Annual Report. Our team worked with ATI to develop an interactive PDF that could be used as a meeting presentation and that would be available on their website. Since we also designed their Annual Report, we were able to carry over some of the themes and branding elements, as well as design new infographics to support the sustainability messaging.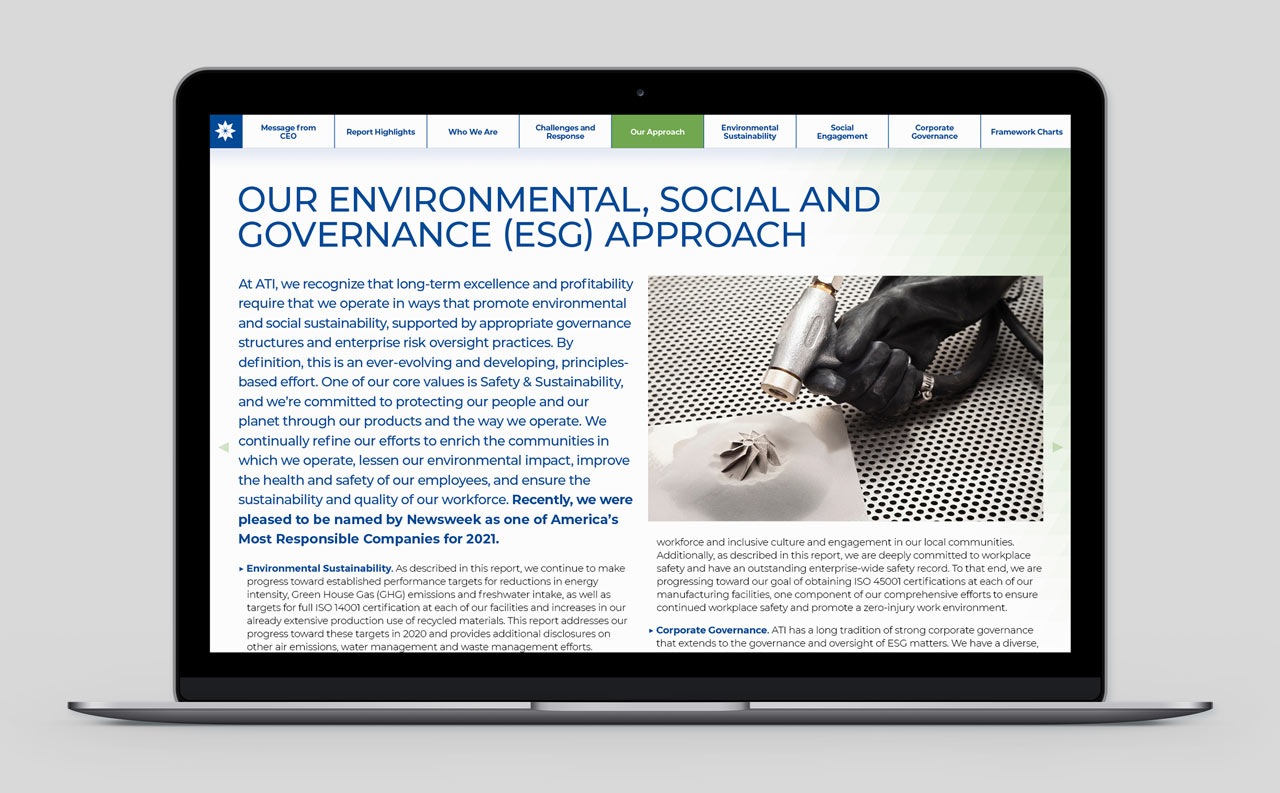 Website
Winner: GDUSA Web Awards 2020
ATI needed a new website design that could remain on their current SharePoint platform. Not only did we help redo the site architecture to make their site more user-friendly, we also created brand elements such as a textured pattern and chose fresh, unique typography to be used consistently across their website and all other marketing materials. The sleek new design reflected ATI's positioning as a problem-solver and technology innovator, with a focus on stories and images that connected their technology and solutions with real people.
Posters
We took visual elements from ATI's new vision and values branding that we helped develop on their website and turned them into posters for ATI.
Fact Sheets
ATI fact sheets are great sales tools that show the values of their products and processes for different industries. We used icons and infographic elements to keep the fact sheets visually appealing and to communicate information quickly.
Illustrations
ATI wanted updated schematics to visually show the various uses of their products. The original ATI schematics included a lot of extraneous details, such as birds, trees and clouds, that distracted the focus away from the products. To help refocus the attention, we simplified the drawings, added a consistent color scheme and updated the fonts to reflect the ATI brand.